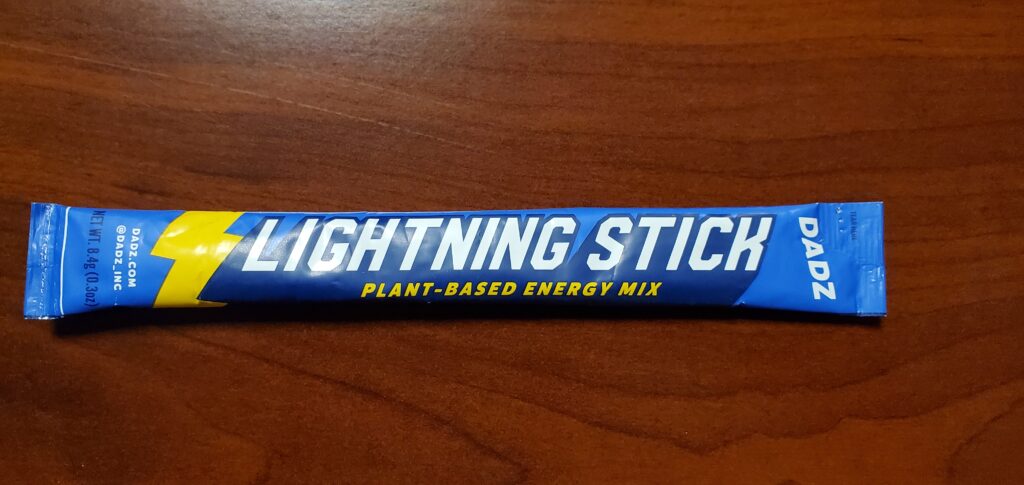 Is it true DADZ catches lightning in recyclable sticks? I think so. This a proud moment for me on a personal level because I'm finally making one of my dreams come true. So please read and enjoy my inaugural review!
Let's face it, you're getting old. For me, my family, a full time job and a home are just enough to keep me in a permanent state of exhaustion. Now more than ever, I'm looking to make my life as simple and clean as possible. I take my health quiet seriously (um, now more than ever), so I recently came across DADZ while searching out various health supplements.
I was intrigued by their product for 3 reasons:
Made in America
Targeted towards Dads
Clean, unique blend of ingredients
I appreciate the steps they've taken to make a high quality product right here in America. As you know, RealDadStuff prioritizes made in America products! Lightning Sticks are GMP-Certified which is actually quiet important. The mixture comes in recyclable packaging which contains no artificial flavors, gluten, allergens or added sugars. The product is plant-based containing Nootropics, Adaptogens, B Vitamins and Natural Caffeine. Please visit their page for more information regarding these ingredients.
The DADZ Lightning Stick Experience
DADZ Lightning sticks have a strong mixed berry scent, similar to a bag of fruit snacks. I'm happy to report the taste is nearly as impactful. A solid, full flavor of berry in every sip, I really enjoy it. I tested the product every day after lunch for 1 week, here are my findings:
For me, there was no "sudden onset" of effects, instead it was rather gradual. Now I admit, this far from a scientific controlled study, but I started to notice it's effects after 30 minutes, every day. DADZ says the product works within 15 minutes, and that very well may be true, but the noticeable "gains" were right at the half hour mark.
So, What did it feel like?
30 minutes after finishing my serving, I sensed I was being more productive and focused. When I glanced at the clock that first afternoon, I realized how early it was. Based on the work I was accomplishing and my general mood, I felt it was later in the day….if that makes sense? Basically, I was cruising through my work without the typical drift off moments us sleep-deprived Dads get all throughout the day. The improvements are subtle, but there, in a really good way. This was my exact experience for post-lunch drinks for an entire week. It's nice to know these Lightning Sticks are predictable and reliable.
For the next few hours the cognitive uptick stayed relatively steady, which is exactly what got me through my afternoon. I felt the effects of the Lightning Sticks wane after about 4hrs.

Over the course of several days, I actually preferred it's effects vs. coffee. It's very useful to my particular skill set, where I quickly switch from technical work to lengthy phone calls.
The experience in a plain glass is not as enjoyable as a tumbler or sports shaker bottle. The mixture does produce dust even when being gentle while pouring, it also tends to clump together. The best way to prepare this mix is to pour small amounts and stir simultaneously.
Final Thoughts and Recommendations
All in all, I'm quiet pleased with the product, I didn't get the sense of any gimmicks or false advertising here. DADZ Lightning sticks positively effected my mood and productivity. I was able to concentrate without trying, the task in front of me was my focus and I felt I was completing quality work. There's a lot to love here if you interests are health and productivity.
I want to give a BIG thanks to DADZ for sending me this product after I basically cold-emailed them a request. They had a very positive response and were eager to send this $40 box of goods to me.
In a day and age where health is paramount, we owe it to ourselves and our families to at least TRY. DADZ is easy, it works, and it contains quality ingredients. Give it a shot, I recommend it!
Thanks for reading. Be sure to follow me on my social media accounts and sign up for blog alerts. I love to interact with the community!
Please note: I'm not a doctor or qualified to give out health information.