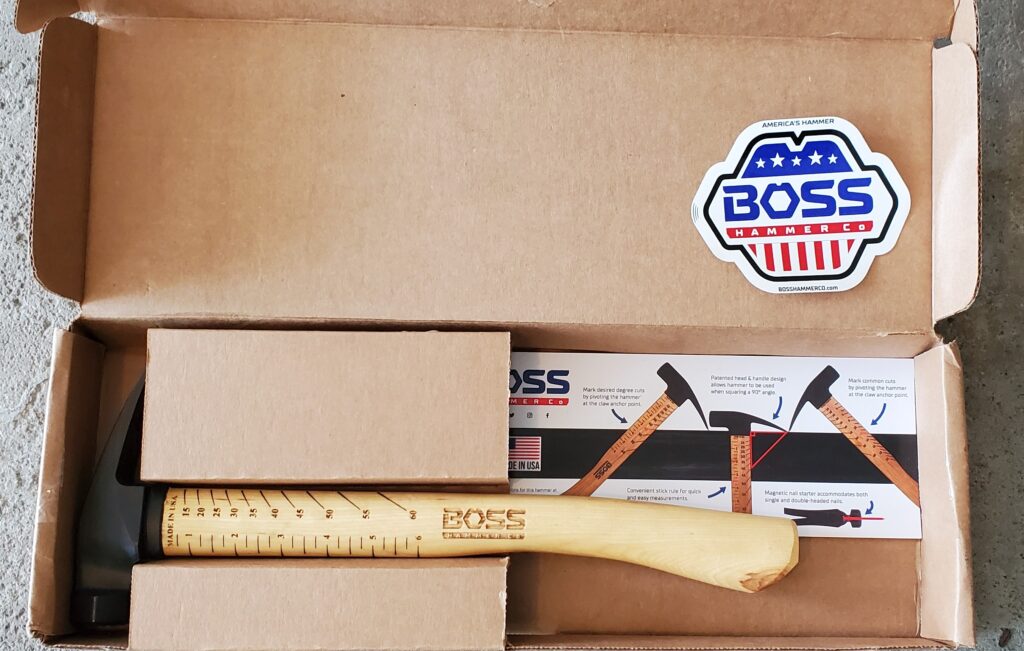 Does Boss nail the perfect hammer, or is this another gimmick? Owner Dan Raymond is the man responsible for gifting me this tool. I promised to use it thoroughly and post an honest review in exchange. Please check out what they're doing on the Boss Hammer Co Instagram page too, it's actually very entertaining!
The world of rebuilding and renovating
In order to give you some confidence in my review, allow me to share a bit of my background. For the past two generations, my family has been building and renovating homes, long before it was trendy and popular. In my life time, I've been apart of 5 different home renovations. Top to bottom, we do it all, so I'm no stranger to a hammer.
My quest to find a perfect, do-it-all, hammer has been long and marred by mistakes and returns. Some are too heavy, some make loud sounds, some vibrate to much, the list of concerns go on and on. When you work frequently with a hammer, comfort really matters.
Putting the Boss to work
This framer was used exclusively on my father's 100 year old rental house. This was a tremendous undertaking and took us all of this past Summer to "fix". Here are some pics to comprehend this crazy task:
The results after a Summer's worth of work
I had plenty of time swinging the 18oz. Steel Hybrid Hammer which immediately felt well balanced and capable. As a bonus, the hammer smells like delicious hickory bacon! Boss choose to use an 18oz. head which offers more heft than a "home" hammer, but less than a full-on framer, which a wise move. This design choice leads to superb control and capability. The hexagonal head is perfect for "toenailing" which was a frequent task in rebuilding and reinforcing the foundation and retaining walls.
The "Square, Measure and Swing" design is what really sets this hammer apart from the competition. Laser engraved markings highlight angles frequently used in framing, this added touch makes the hammer feel special. The base of the head acts as a 90 degree angle, this alleviates the constant need for a square.
Best of all, this hammer is made right here in the USA, which is a very important part of RealDadStuff which encourages support of local and national brands. Most people don't understand how hard this is nowadays, so hats off to them for keeping it here.
The bottom (laser engraved) line
I want to thank Dan Raymond again for his generosity and appreciation for my efforts, it's imperative we highlight Made in USA products! I can honestly say this is my go-to hammer, one I can see passing on to my Son in confidence. During our renovation, it handled everything from 10 penny, drywall and roofing nails with great authority. Check out Boss Hammer Co. if you're in the market for a balanced hammer with functioning features.
Thanks for reading!